After 30 years with Marquette Transportation Company, Paducah, Ky., John Eckstein has assumed the role of executive chairman of Marquette and transitioned his duties as CEO to the company's president, Damon Judd.
In this Q&A web exclusive, we ask Eckstein to talk about his experience over the last few decades with one of the country's largest providers of marine transportation solutions.
Marquette has three operations, with a strategic mix of vessels powered with the latest marine technology and equipment. Founded in 1978, the company's River unit now offers a fleet of more than 50 line haul vessels and 800-plus dry cargo barges. In 2007, Marquette added its Gulf-Inland unit (formerly Eckstein Marine) and its Offshore unit (formerly HLC Tugs) to create a seamless transportation experience for our customers. 
Marine Log (ML): What have been the biggest challenges you had to deal with in the past 30 years?
John Eckstein (JE): There are many that come to mind as you look back on our evolution as a company and the market cycles we had to survive to get to where we are today.  In this business, we are all impacted by a number of factors that are completely beyond our control: weather, global crops, dynamic operating conditions and global trade, to name a few. Add to that a unique complexity to our markets above and beyond the economic swings all businesses face. The most consistent challenge for Marquette though is the volatility we see in our river business as a result of our heavy focus on covered hopper transportation that is tied to the grain markets. 
Our constant focus on creating a successful business despite this challenge is probably one of our largest competitive advantages in our market. In the early 1990s, while most boat operators sought charter work in areas that offered less seasonality and more stability, we decided to focus on serving the grain business. We offered our customers the value proposition of total flexibility. When they were busy we would operate enough equipment to keep their barges moving and when they slowed down we would lay boats up and wait for it to get busy again. Sometimes we would go from 50% of our fleet operating to 100% and back to 50%, all in the same month.
This was no easy task then and it isn't any easier today, but it is at the heart of who we are as a company. Our success despite this challenge has been driven by an incredible shoreside team combined with the best mariners in the business. They all understand the mission and work together to safely execute our business and support our long-term customer partnerships.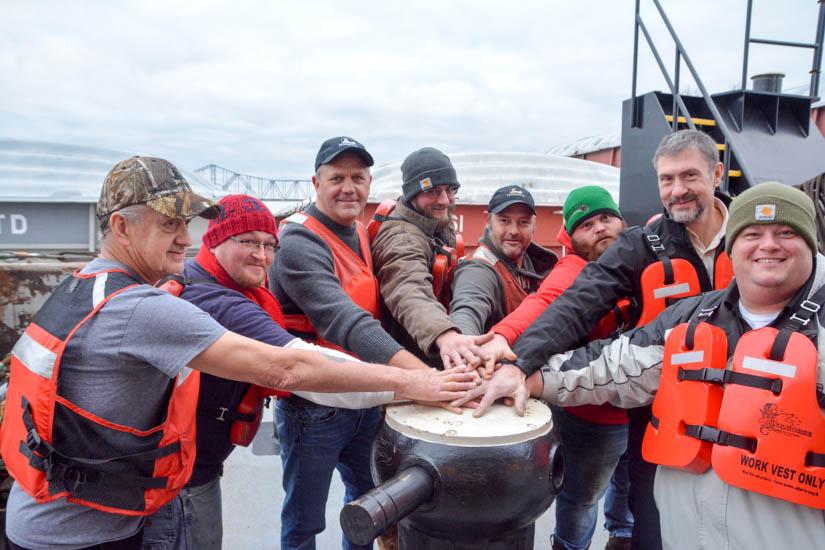 ML: What do you see as the big challenges going forward?
JE: Maintaining quality mariners. Marquette's strength always has and always will be our high quality mariners. It's very hard work and our crews are away from home 30 days at a time. It takes a special person to start out in this business on the deck and work their way into the wheelhouse, navigating 40-plus loads with over 80,000 tons of product on an ever changing river system or pushing 1,000 feet of tow in the canal. Our shoreside team has an incredible amount of respect for our mariners. As an industry, it is critical that we continue to invest in training the next generation of mariners, regardless of swings in the economics of the business.
As a country, we need to increase our investment in the aging infrastructure of our inland waterways. Our waterways give American farmers and businesses a considerable economic advantage as we move bulk commodities to markets and provide important inputs to factories along the river system through the safest, most efficient and most environmentally friendly mode of transportation available. 
Today, nearly half of our nation's 242 locks are over 70 years old! If, as a country, we don't increase infrastructure funding for our nation's locks and dams we are going to throw away our competitive advantage while we watch countries like China invest billions to support infrastructure enhancements around the world. 
ML: The tech revolution and all those things that could be lumped together as digitalization have impacted every other segment of maritime industry. How long before they reach the rivers, or have they done so already?
JE: When I first took over at Marquette, we still relied on marine operators to call the boats and the latest new technology was the ability of boats to fax their orders to the office. It is easy to look at the hull ages of the industry's towboat fleet and draw the conclusion that technology enhancements have been slow to impact the inland market. That, however, is a misconception. 
While many of the fundamentals of our business remain the same, the tools and systems that support our mariners and our operations continue to advance with technology. There have been significant enhancements in things like communications, electronic charting and preventative maintenance systems to name a few. I believe all the major companies in our industry are investing significantly in technology to help provide better information and real time analysis for our mariners and shoreside teams.  
ML: Earlier this year, Marquette received its fifth and final boat in a series of 6,600 hp. triple Z-drive towboats from C&C Marine and Repair. What can you tell us about these vessels and do you have any other big projects in the works that you can tell us about? 
JE: We are very pleased with the quality of construction at C&C Marine. While our experience is that Z-drives do not provide a measurable increase in performance northbound, the steering and maneuverability southbound is impressive. There is a learning curve in operating and maintaining this style of vessel though, and our team has done a great job working through these dynamics. While we like having a few Z-drives in our fleets, we don't think they will ever replace conventional boats inland. There are still many segments of our business where a conventional boat is a better fit at this point, such as the larger horsepower boats that can handle heavy northbound tows.
ML: How has Marquette tackled the issues that come along with COVID-19 and being an essential business? 
JE: While COVID-19 has created challenges, I think that companies that operate in the marine markets were better equipped to respond to these challenges than many other industries. By its nature, our markets require companies to adapt to rapidly changing conditions and to develop the capability to respond to crisis. At Marquette, we were able to leverage this muscle memory to very quickly change our operating procedures to protect our teams while maintaining service for our customers. 
Some of the key elements for us have been emphasizing the importance of excellent communication, ensuring we had the appropriate infrastructure to support office members working remotely, and a commitment that we will be fully transparent with our mariners on any COVID-19 concerns that emerge on their vessel. I'm very proud of how our teams have responded to the challenges of COVID-19 with teamwork, agility and a sense of duty and pride in what role our industry plays in supporting the economy in the U.S. and food supply globally.